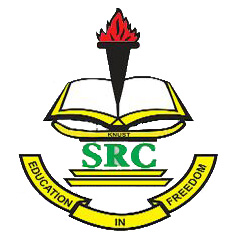 The Students' Representative Council is the official student government association of the KNUST. The Student council serves to engage students in learning about democracy and leadership, as originally espoused by John Dewey in Democracy and Education (1917). The Student Council is a representative structure for students only, through which they can become involved in the affairs of the university, working in partnership with university authorities for the benefit of the university and its students.
The SRC is a representative body of all students of KNUST; graduate and undergraduate. It has continuously championed and safeguarded the right and interest of all students of this university and in equal measure, aided the University in enhancing student privileges. The SRC makes representation on most university boards and committees that take major policy decisions affecting students. An example of such is the university council and academic board on which the SRC president serves. The SRC's core function is to represent, promote and champion the rights, interests and views of students in all matters to ensure students well-being. In essence, we're there for your welfare.
The KNUST Student Representative Council colloquially known as "KNUST SRC" is the legitimate representative student government of the Kwame Nkrumah University of Science and Technology, Kumasi. The council was established in 1957. The Council is responsible for the administration of student services, campus-wide events, and student advocacy at KNUST. There are about 40 students at any giving time serving on the council: a President, Vice President, General Secretary, Financial Secretary, Women's Commissioner, and other appointees. Students from the six colleges and foreigners also have a representative on the council. The SRC also collaborates with the local chapter of the Graduate Students Association of Ghana (GRASAG) and the National Union of Ghana Students (NUGS). Master Samuel Sesah is the immediate past president with Master Michael Abuah as the current president.
The KNUST SRC even though was listed as one of the university governing council's representatives per the act that established the KNUST in 1952 had no representation on the council until 1957 when Dr. Joe Okyere Condua who served for two consecutive years was appointed as the SRC president, but was not recognized on the university governing council. Founded with the purpose of representing undergraduates at KNUST to the administration, faculty, and wider community, the KNUST Student Representative Council is chiefly responsible for advocacy on behalf of students and funding student activities on campus. The Council operates with a budget that is primarily dispensed to student organizations, but it also funds social events and student initiatives. As the sole representative student government, the KNUST SRC provides student services like most student unions and also performs advocacy on behalf of the student.